Crystals are the Earth's timekeeper, the elemental artifacts created over thousands of years. The life-giving effects of water washing over molecules of sand to create wafers and layers that assemble an architecture of frozen light. Within each layer is a record of the Earth held and ready to transmit the wisdom of the Great Mother spirit of our planet.
Each one of these amazing elements speak in their own language, calling out to those who hear them and who agree to be their keepers for a brief period of time. Crystals are transducers, memory devices, information storage containers, transmitters, amplifiers, and computers.
Crystal therapy has been used since ancient times to create energy movement within the human body. An amazing method of using crystals to clear energy channels in order to bring balance is found in a process developed by Dr. Marcel Vogel, a spiritual scientist that worked for IBM for twenty-seven years before founding Psychic Research Inc.
Crystals are the second most abundant element found in the Earth's crust, next to oxygen. The natural form of a crystal, is a six-sided prism with a terminated end, the same six-sided configuration is held by all water and energy molecules. Crystals are indeed frozen light.
Amethyst
Amethyst is a calming and meditative stone. It works to enhance intuition and psychic powers. It promotes peace, happiness and contentment and is an excellent protection stone against psychic attack, especially when used during spiritual work. Amethyst is thought to be the "All healing" stone as it is beneficial in the healing of people plants and animals and especially effective in healing addictions and destructive compulsive behavior.
Chakra
• Crown
• Third Eye
Intentions
• Healing of people, plants and animals, addictions and destructive compulsive behavior
• Enhance intuition and psychic powers
• Promotes serenity, contentment, peace
• Protection against psychic attack
Astrology
• Aquarius
• Pisces
• Aries
• Sagittarius
Aqua Aura

This beautiful bright blue is not naturally occurring but is the result of a specific treatment process in which the crystals are heated and finely vaporized gold is bonded to the stone's surface. Although it's created by a completely unnatural process, aqua aura is permanently changed quartz crystal. In fact, the process actually has a positive effect on the stone. These quartz crystals have very powerful metaphysical properties partly because they are quartz crystals, but because of the layer of fine gold that covers the stone.
These crystals resonate strongly with a vibration that is a powerful aid for communication and psychic gifts. These lovely stones have a very high and quite intense energy that activates all of the chakras but is particularly active at the throat and hearts chakras.
Chakra
• Throat
• Heart
• All
Intentions
• Aids in heartfelt communication with others
• Helps to let go of perceived self-limitations
• Gives power to speak the truth without fear



Aquamarine

Aquamarine's glittering blue-green color evokes the purity of crystalline waters and the relaxation of the sea. It is calming, soothing, and cleansing and inspires truth, trust and letting go. It's often used to enhance spiritual communication and clear communication blocks. Aquamarine is also used to align all of the chakras and enhance the aura.
Aquamarine helps overcome the fear of speaking and is an excellent stone for teachers and presenters of all types. It relaxes speakers to a stage of consciousness in which they are fully aware of their own truths, wisdom and feelings, and are able to articulate them with clarity and conviction. It also allows one to speak clearly and without anger in difficult situations.
Chakra
• Throat
Intentions
• Calming, soothing, cleansing
• Promotes truth, trust, letting to
• Enhances spiritual communication, clears blocks
• Helps to overcome the fear of speaking, boost teacher confidence
Astrology
• Scorpio
Citrine

Many revere Citrine as the "Success Stone" and "The Happy Stone" as it is thought to enhance the flow of energy of money, clarity, positivity and transformation to those who work with this beautiful stone. Citrine is one of the stones of abundance and prosperity. It's also a happy and generous stone that amplifies sharing and good will. It's believed that Citrine does not hold any negative energy therefore not requiring the clearing as does other quartz crystal, making it a wonderful healing tool for practitioners and energy healers. This stone is energizing and recharging of one's entire chakra system.
Chakra
• Solar plexus
• Sacral
• Crown
Intentions
• For increasing clarity, transformation and positivity
• Promotes abundance and prosperity
• Amplifies good will, happiness and sharing
Astrology
• Aries
• Gemini
• Libra
Clear Quartz Crystal

Clear quartz crystal is the highest gift of our Mother Earth that can be a powerful healing crystal of manifestation used to activate and energize the key energy centers within the body. Often considered a universal healing crystal, clear quartz crystal is a universal energy channeler. It amplifies, balances and focuses thoughts and intentions and is beneficial for healing, manifesting, meditation and channeling. Clear quartz crystal will help to open mind and heart to receive guiding energies as it amplifies intentions and the energy as programmed.
Chakra
• All
Intentions
• The "Universal Healing Crystal"
Can activate, energize all energy centers in the body
• Amplifies, balances our thoughts and intentions
• Beneficial for healing, manifesting, meditating and channeling
Astrology
• All
Dichroic Glass

With the dynamic hues, Dichroic Glass is thought to activate all the chakras of the wearer and opens the path towards the expanded universe that is beyond the body. It is also known for activating the Crown Chakra which assists to regulate thoughts and emotions. The colorful gaze into this clear glass helps one view into the future and helps to raise inner visions during meditation. It is also believed to stimulate the understanding, mind's eye and intuition power.
Chakra
• All
• Crown
Intentions
• Increase understanding, intuitive power
• Assets with future vision and inner visions
• Regulation of thoughts and emotions
Astrology
• Aquarius
• Libra
• Sagittarius
Girasol (Milky Quartz)

This stone offers a gentle yet powerful calming energy that can enhance clarity and feelings especially when connected to love and passion. Girasol also enhances creativity in areas of art, business and practical areas. Girasol may help to improve your communication skills allowing you to feely speak your truth.
Chakras
• Crown
• Throat
Intentions
• Brings a calming, relaxing, optimistic energy
• Enhances creativity, visualization, lucid creaming
• Promotes joy and happiness
Astrology
• Aquarius
Labradorite
Labradorite is a highly protective and mystical stone, the "Bringer of Light". It can help you connect to Universal energies and while deflecting unwanted, darker energies from your aura. It forms a barrier to negative energies and can even prevent energy leakage. Labradorite helps to eliminate fears and insecurities and psychic detritus from past disappointments as it strengthens faith and trust in the Self and Universe.
Chakra
• Throat
Intentions
• Highly protective
• Connect with Universal energies
• Eliminate fears and insecurities
Astrology
• Cancer
• Leo
• Libra
Montana Agate

Considered a powerful cleansing, stabilizing and strengthening healing stone, Agate vibrates at a slower frequency and intensity than other healing stones. Helps to balance and harmonize positive energies while enhancing confidence and self-love, promoting centering, stability and maturity. Besides stability and positivity, Agate brings a practicality to surround energies helping us to sort out commitments, desires and goals.
Chakra
• All
• Crown
Intentions
• Stabilizing, cleansing, healing
• Balance, harmony, centering
• Enhances confidence and self-love
• Clarity surrounding commitments, desires and goals
Astrology
• Gemini
Obsidian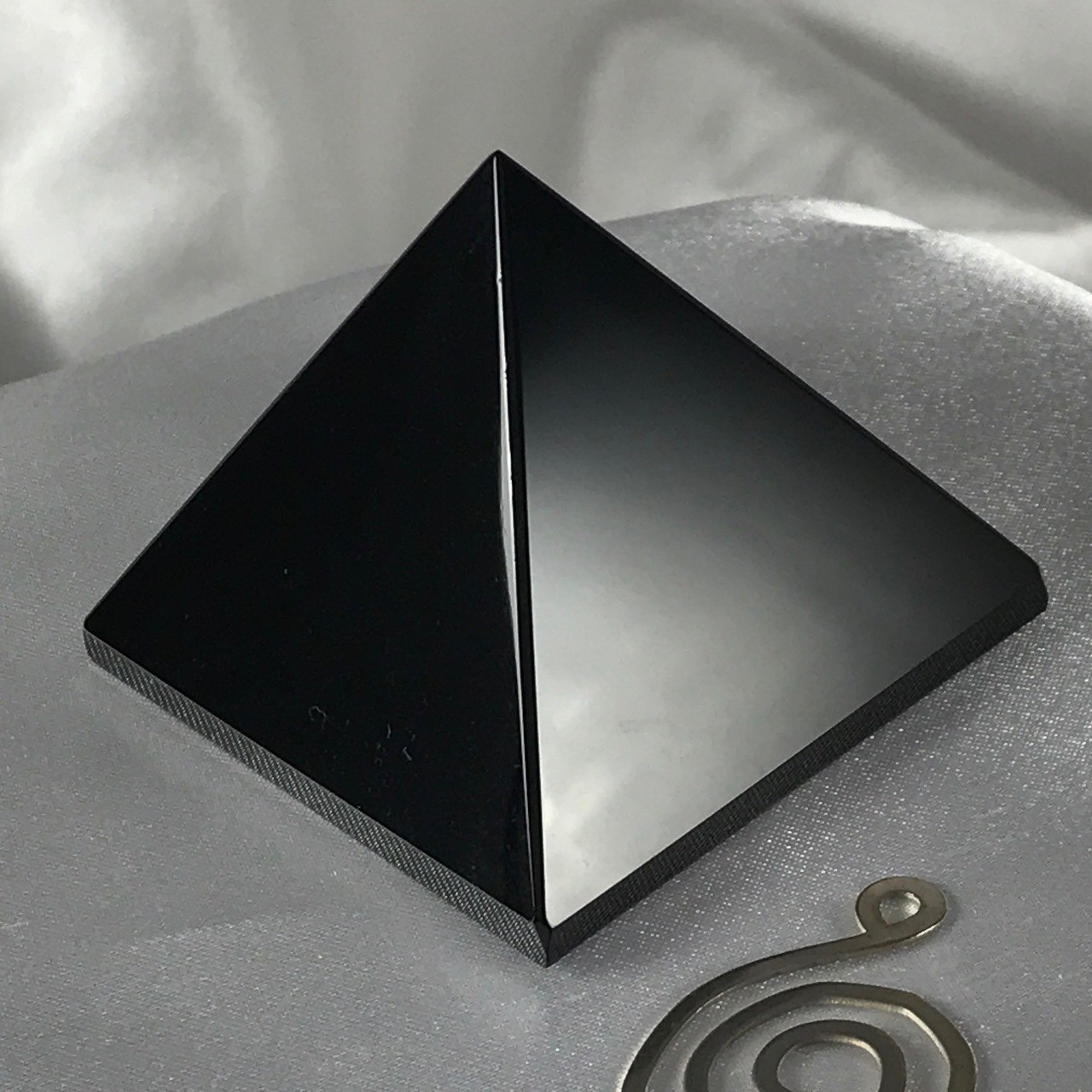 A strongly protective stone, Obsidian is also known for its truth-enhancing power. A naturally occurring volcanic glass that cooled very quickly, obsidian is not a classic quartz but a naturally occurring glass. It can form a barrier against negativity and help block psychic attack. It's often used to absorb negative energy from the surrounding environment.
Obsidian is often used to stimulate the root Chakra, harmonizing and balancing with the other energies in the body and creating a connection to the deeper layers of our Mother Earth. Use it to delve into the deeper soul and body connection, soul clarity and clearing blockages and negative energy from the past.
Chakra
• Root
• Solar plexus
Intentions
• Truth-enhancing
• Barrier against negativity, blocks psychic attack
• Can absorb negative energy in the surrounding environment
Astrology
• Aquarius
• Libra
• Sagittarius
Rose Quartz

Rose Quartz is often called the "Love Stone". Its energetic hallmark - unconditional love - opens the heart chakra. Rose quartz may enhance every kind of love including self love, romantic or platonic love, family and friend love. Bringing in love enhances all aspects of life. It is also considered useful in easing the process of dying by bringing in unconditional love of the Divine.
Rose quartz can be useful in dream work and recall. Physically, rose quartz is believed to the heart and circulatory system as well as lungs by lowering stress in the body in the area of the heart chakra.
Chakra
• Heart
Intentions
• "Love Stone"
• Unconditional love
• Enhances every kind of love
• Dream work and recall
Astrology
• Taurus
• Cancer
Rutile

Rutile can be used as an energizing stone that moves energy on all levels, helping with mental focus, meditation and dream work. It's often used to deflect negative energies and unwanted psychic interferences and provide guidance in decision-making and clarifying mental processes. The specific type of psychic power that rutile enhances is known as clairsentience, meaning "clear thinking."
Chakra
• Solar plexus
Intentions
• Mental focus, meditation and dream work
• Block and deflect negative energies
• Clarifies mental processes to enhance decision-making
Astrology
• Taurus
• Virgo
Siberian Blue

A lab-grown quartz, Siberian Blue Quartz is developed by adding cobalt as a seed crystal creating a stunningly beautiful and clear quartz allowing energy movement to flow freely. Can aid in clearing the throat and brow chakra with a focus on communication and inner vision, enhances intuition, communication, inner vision and clearing blocks of limiting thoughts. This stone may assist one in seeing the bigger picture and remove stress and confusion from a lack of information. It is said to promote one's psychic abilities, such as clairvoyance & telepathy, and to increase visionary experience while enhancing solitude, quiet and peace of mind.
Chakra
• Throat
• Mind's Eye
Intentions
• Communication, intuition, inner vision
• Promotes psychic abilities
• For seekers of solitude, quite and peace of mind
Siberian Green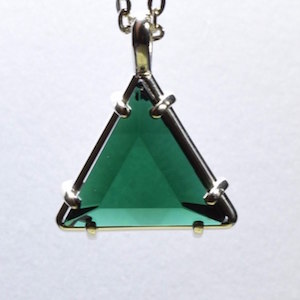 Activates the heart chakra and increases capacity for love by filtering negative energies. Used to open the heart chakra, imparting a feeling of peace, serenity, love, and compassion for all consciousness. It's also thought to open channels to our intuitive senses by opening the heart and inspiring creativity, abundance, success and grounding. Green quartz interacts with the Thymus gland to boost the immune system and keep balance in the body. Green is thought to be the color of healing at all levels and is the aura color of Archangel Raphael "he who heals". Siberian quartz is a lab-grown crystal that's created in Russia.
Chakra
• Heart
• Mind's Eye
Intentions
• Psychic insight
• Attracts abundance, success, prosperity
• Growth, regeneration, healing, creativity
Smoky Quartz

This soothing, umber-colored healing crystal can protect and ground providing physical and psychic protection from negative energy as it transmutes negative energy into positive energy. Smoky quartz crystal works unendingly to correct imbalances in the physical and etheric bodies, with an emphasis on the solar plexus or third chakra.
Chakra
• Root
• Solar Plexus
Intentions
• Protection against negative energy
• Correct energetic imbalances
• Grounding and centering
Astrology
• Capricorn
Tiger's Eye

Tiger's Eye is a stone of good fortune and abundance, combining Earth energy with Sun energy and enhancing grounding and positivity. It promotes personal manifestation of ideas and desires into reality, providing courage to face and make key decisions. Sharpens insights and perception into that which is unfamiliar. Protects from negative intentions of others and is especially protective of travelers. Helps with focus and reflection on details. Tiger's Eye is an ancient talisman, mysterious and powerful, revered and feared as an "all-seeing all-knowing eye," thought to grant a wearer the ability to observe everything, even through closed doors.
Chakra
• Solar plexus
• Sacral
• Root
Intentions
Positivity, optimism, good fortune
• Abundance, manifestations
• Insights, intuition, visionary
Astrology
• Gemini
• Cancer
• Leo